This story is part of the "We Are Here" series, which has been created in partnership with PA Humanities, an organization dedicated to building community and sparking change.
The public library and its role in the community have changed tremendously over the past two decades, and Sue Banks has been a leader in that evolution at every stage of her career.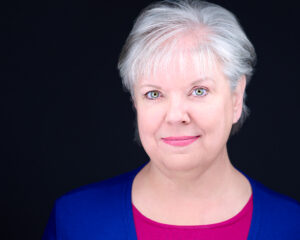 Banks started working in libraries in 1997, when institutions across the country were getting their first computers from the Gates Foundation and being connected to the early internet. She began in adult services and community relations, and moved on to administration, management, and leadership in Ohio, Kentucky, Oregon and Pennsylvania, serving as deputy director of Carnegie Library of Pittsburgh. 
Named Deputy Secretary of Education, Commissioner of Libraries and State Librarian for Pennsylvania in April, she has one goal: Ensure that the Office of Commonwealth Libraries not only runs well now, but is stabilized for the future.
PA Humanities recently spoke with Banks about her vision for libraries, the pandemic's impact, and how these beloved institutions can continue to be welcoming and inclusive spaces. 
PA Humanities: What is your vision for PA libraries? Where would you like to see them five, 10, 20 years down the road?
Sue Banks: The most important thing for libraries is to respond to changing community needs — and that means hiring staff and library leadership that are good at perceiving those needs. 
Every library needs to be at the table. If it's tiny, if it's big, it doesn't matter. Staff and leadership really need to be intentional and understand the unique role of libraries. That connects back to traditional library services, such as lending materials. Only libraries do that. 
How has COVID impacted libraries' role in the community and how community members view them?
This was a real test of libraries' ability to change, respond and listen to their patrons' needs. Based on the data we've collected and the stories we've heard, the pandemic and all the fallout from it actually made some libraries stronger. On the other hand, in some cases it undermined the role libraries played in their users' lives. When traditional methods of service and content delivery were unavailable, users found other options or stopped thinking about getting those services and content completely. Streaming services, retail e-books and the emergence of other providers and products completely supplanted the functions that libraries perform for some users. 
We all got that big sock in the jaw initially, and it was the people who weren't afraid and felt empowered and capable of responding to the community's needs who were successful. There were some really creative solutions that were implemented.
PA Humanities gave $1.4 million in grants to organizations across the state as part of their Sustaining the Humanities through the American Rescue Plan (PA SHARP) program in 2022. Many of these grantees are libraries that are doing wonderful humanities-based work and going beyond what might be considered traditional library offerings, whether it's hosting family cooking classes at Reading Public Library or bringing people together for board game night in Lower Merion. [Check out Episode 3 of our podcast We Are Here to learn more.] What are some other examples of innovative, forward-thinking, humanities-based programming you've seen at the state's libraries?
I kind of feel that all programs at libraries are humanities-based programs. And the programs you list are great, engaging, accessible, and go a long way towards making libraries belong to everyone — and help everyone feel they belong in libraries. The kind of programs I've hosted and designed since the early days of my career would fit right in there. In many ways, all it takes is a few creative minds and participants of all ages who are game to experiment and the sky's the limit.
Every library needs to be at the table. If it's tiny, if it's big, it doesn't matter. Staff and leadership really need to be intentional and understand the unique role of libraries.Sue Banks
What are some of the barriers or challenges to positioning the library as a welcoming, inclusive space? And what are some of the ways in which libraries can invite people in? 
Oftentimes it is breaking out of the skin of the traditional library, particularly the ones that are in big, historic buildings. Andrew Carnegie encouraged towns to build these edifices that were temples of learning. Modern libraries are built to be accessible, and accessible in ways that go beyond the physical. 
You can take the library experience to other spaces — the outdoors, barber shops, community centers, trailer parks, or to people who don't have transportation or aren't mobile. You bring the stuff and the staff to them. That's the essence of overcoming those accessibility barriers, but also barriers that are attached to tradition or culture or socioeconomic factors or geography.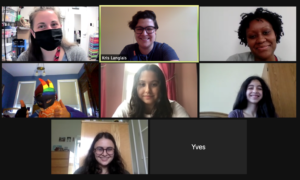 You are a big supporter of PA Humanities' Teen Reading Lounge program. How do you view the public library in terms of its ability to create a space for teens that's different from what they might find at school or through other out-of-school activities? How do you see diversity, equity, inclusion and belonging (DEIB) initiatives, such as Project Ready, shaping the future of youth services?
I'll tell you a secret: I was not always a big supporter of teen services. But I am a convert! Over the years, I have seen the way it changes the future for the teens who participate and the libraries and library staff who lead those efforts. From the point of view of DEIB, there is so much to learn and so many ways to grow — and it's such fertile ground in which to work. Teens are perfectly positioned to keep us from continuing to make the same stupid mistakes and living out the same misunderstandings that grown folks find so difficult to abandon. 
Funding for "We Are Here" comes from PA Humanities and its federal partner, the National Endowment for the Humanities, as part of the American Rescue Plan Act of 2021.
LEAD IMAGE: Teen Reading Lounge participants work on creative humanities projects at Muhlenberg Community Library.