When most Pennsylvanians think maple syrup, they probably envision Vermont or maybe Canada, but they should really be looking closer to home.
In 2022, Pennsylvania ranked seventh nationwide in maple syrup production and boasted 750,000 taps producing 164,000 gallons of product. In the early spring, as temperatures rise and the sap starts to flow, the industry celebrates with Maple Festivals in each of the six PA regions — Endless Mountains, Northeast, Northwest, Potter/Tioga, River Valleys, and Somerset County  — that comprise the Pennsylvania Maple Sugar Producers Council.
A growing crop of first generation producers is a sweet sign of the industry's health. Rachel Courtney of Sugar Mama's Appalachian Maple in Tioga County and Kyle Dewees of Whiskey Hollow Maple in Bradford County, which he runs with his wife Sara, are passionate about this labor-intensive craft.
Courtney developed a love for maple sugar production as a teenager by attending the Potter/Tioga Maple Producers Association's Maple Weekend; the 19th annual iteration will take place March 18-19, 2023.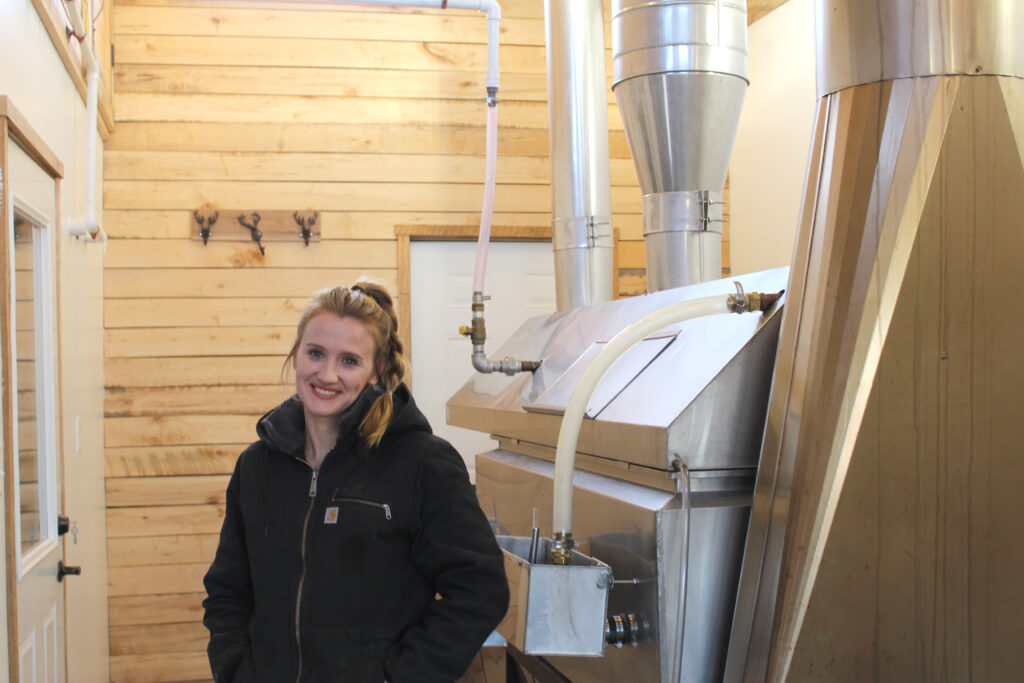 She then started helping out a local producer, tapping trees and witnessing firsthand the magical transition of maple sap into maple syrup via the boiling process — it takes 40 gallons of sap to yield one gallon of syrup.
"I started tapping trees in our yard — we have about nine sugar maples — and then we kept adding on and adding on," recalls Courtney. "At first, I was cooking down in a turkey cooker, but that wasn't for commercial production, just for the family to use."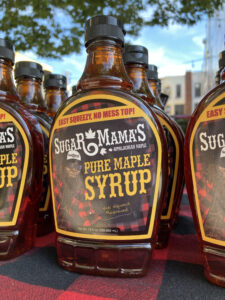 From there, her passion grew.
"My dad helped me build a homemade evaporator, which we used for two years," she says. "I decided I really like this and decided to go for it, so we built our sugar shack and it just kept snowballing from there."
In recent years, Courtney purchased new equipment, including a reverse osmosis machine and an evaporator. She also added just under 3,000 taps to her company's stable and expanded her slate of maple-themed products. She attends vendor shows to market her fledgling operation and promote unconventional uses of maple syrup to area businesses.
"I went into cahoots with a lot of local restaurants [and breweries]," she explains. "We've done maple-themed dishes and beverages, such as a Falling Maple Brown Ale. It has been a passion to show people that maple syrup is just not for your pancakes."
The beer was a collaboration with Boom City Brewing Company in Williamsport. It took home third place at this year's PA Farm Show.
Dewees of Whiskey Hollow Maple is the president of the Pennsylvania Maple Syrup Producers Council. He and his wife learned how to make syrup through a lot of trial and error. His business has a special production method that provides next-level flavor to their products.
It has been a passion to show people that maple syrup is just not for your pancakes.Rachel Courtney, Sugar Mama's Appalachian Maple
"We do a whiskey-barrel aged and a rum-barrel aged syrup," he says. "I put it in my coffee and it is really good on cooked vegetables and meats. If I put it on meat, I do it at the end and let it caramelize for a little bit. The same with cooked vegetables — it's great with cooked carrots and asparagus as well."
Whiskey Hollow Maple sells preserves, applesauce, hot and tangy mustards, a pancake mix, hot chocolate, maple-candied almonds and pecan nuts, and four flavored maple syrups (cinnamon, hot pepper, smoked and vanilla) online and at farmer's markets and specialty grocery stores.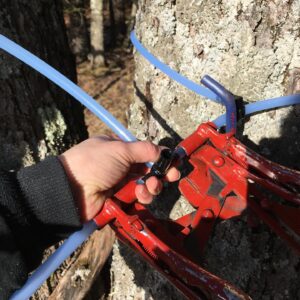 Courtney is a Council member and also volunteers her time as public relations director. In her home region of Potter/Tioga, the Maple Festival will feature 21 producers hosting spring open houses. From live music to sugar house tours to boiling demonstrations, each site will showcase the industry. There are even hands-on opportunities to tap a sample log.
"Several locations will serve pancake breakfasts beginning in the morning and continuing throughout the day," says Courtney. "Each location has a little something different to offer. Some have hayrides or farm animals on display; there is an antique tractor show and others have vendors. All of these events happen in a beautiful countryside setting."
Dewees will personally participate in the 41st Endless Mountains Maple Festival (April 29-30, 2023).
"It is an absolutely great opportunity to showcase maple production to people who may not understand what our industry is about and what it takes to produce maple sugar," adds Dewees, whose operation has 5,300 trees and 1,400 gallons of annual production. "This is an opportunity in the spring for customers to come to the producer. Many people come north to visit several sugar houses for the weekend. This is great for our industry."
***
If you can't make one of these events across the state in the coming months, you can still enjoy made-in-PA maple syrup. These two recipes come via Sara Dewees.
Chocolate Chip Cookies
Ingredients
1 cup butter, softened
1.5  cup granulated maple sugar
1 teaspoon baking soda
2 eggs
1 tablespoon vanilla
2 ¾ cup all-purpose flour
1 12 ounce package semisweet chocolate pieces (2 cups)
1 ½ cup chopped walnuts, pecans, or hazelnuts (optional)
Directions
Preheat the oven to 375 degrees F. In a large mixing bowl beat butter with an electric mixer on medium to high speed for 30 seconds. Add maple sugar, and baking soda. Beat on medium 2 minutes, scraping bowl occasionally. Beat in eggs and vanilla until combined. Beat in as much of the flour as you can with the mixer. Using a wooden spoon, stir in any remaining flour. Stir in chocolate pieces and, if desired, nuts.
Drop dough by small spoonfuls 2 inches apart onto ungreased cookie sheets.
Bake for 6 to 8 minutes or until edges are lightly browned (cookies may not appear set). Cool on cookie sheets for 2 minutes. Transfer cookies to a wire rack; cool. Makes about 48 cookies.
Maple Old Fashioned
Ingredients
2 ounces (¼ cup) bourbon whiskey
1 teaspoon maple syrup (try smoked maple syrup for an extra twist!)
4 dashes of Angostura bitters
Orange peel for garnish
Cocktail cherry for garnish (optional)
Ice, for serving
Directions
In a lowball glass, stir the bourbon, maple syrup, and bitters. Add a large ice cube.
Use a knife to remove a 1" wide strip of the orange peel. Squeeze the orange peel into the drink to release the oils. Gently run the peel around the edge of the glass, then place it in the glass.
JAMES MENTZER is president of Mentzer Communications LLC and a freelance writer who is the author of three books, including Pennsylvania Manufacturing: Alive and Well.  He resides in Harrisburg.