It's time for another installment of We Are Here, a Keystone Edge podcast starring Pennsylvanians making their mark. This series has been created in partnership with PA Humanities, an organization dedicated to building community and sparking change. We hope these conversations will do the same.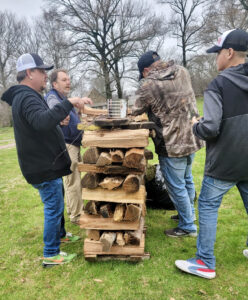 For thousands of years before the arrival of European settlers, The Lenape hunted, fish, and farmed the lands around the Delaware River. From there, the history is a dark one. The indigenous tribes were forcibly removed from their lands and eventually exiled west, far from their ancestral home. The brutality did not end with the living. Burial grounds were exhumed and artifacts sent around the country to museums, universities and private collections.
Now there has been an effort to right that wrong — and to allow for a measure of healing. In April 2022, the bodies of 180 Lenape ancestors and nearly 10,000 funeral artifacts were repatriated and reinterred at a new burial site on the grounds of Pennsbury Manor, a public historic site on the banks of the Delaware in Bucks Country, Pennsylvania.
To tell us all about the project and the fraught history surrounding it, we spoke with Jeremy Johnson, Cultural Education Director of the Delaware Tribe of Indians, and Doug Miller, site administrator of Pennsbury Manor. 
If you'd like to learn more about the history and legacy of the Lenape, visit delawaretribe.org, and to plan a visit to Pennsbury Manor, head over to their website. 
LISTEN NOW: 
Subscribe to We Are Here on Apple, Spotify, Google, Amazon, Stitcher, and Podcast Addict.
Funding for "We Are Here" comes from PA Humanities and its federal partner, the National Endowment for the Humanities, as part of the American Rescue Plan Act of 2021.
We Are Here is hosted by Lee Stabert.
LEAD IMAGE: Collaboration was key as the Lenape prepared to return their ancestors to their homeland. This image was taken during a meeting at Pennsbury Manor.