On June 8, three startup companies took home a portion of the $50,000 prize from Ben Franklin Technology Partners and the PA Wilds Center for Entrepreneurship. They won the day — and the BIG IDEA Contest — with passionate pitches and grace under pressure. This was the second of three planned pitch competitions in the region. 
If there's something that connects the three victors, it is the idea of doing good. All three companies look to improve the lives of people in Pennsylvania and beyond, whether that's through art therapy, inclusive employment, or a more functional government. They beat the field of five other finalists who presented on stage at University of Pittsburgh at Bradford.
The grand prize and $25,000 went to Kafferlin Strategies/CiviLink of Warren.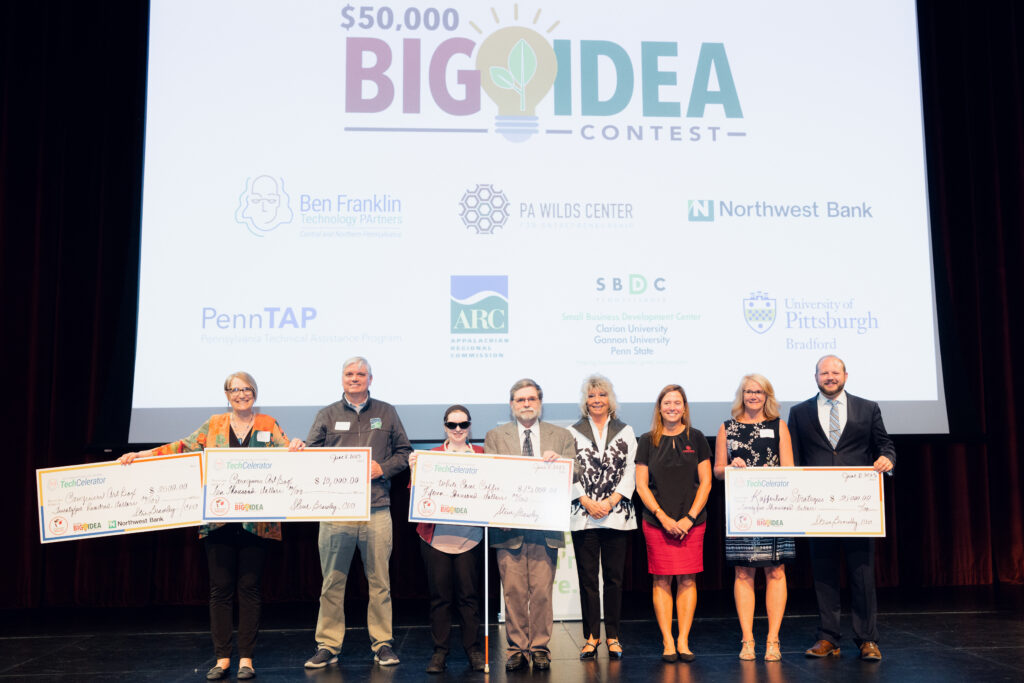 Ben Kafferlin opened his presentation by saying that, in general, local government is more "Parks & Recreation" than "House of Cards." This is a group of people who are trying to help, but they could use some new tools to achieve operational excellence. 
He should know — Kafferlin serves as the county commissioner in Warren County. During the 2020 election, he found himself following procedures that didn't really make sense to him. The answer he received: "I don't know. It's just the way it's always been done."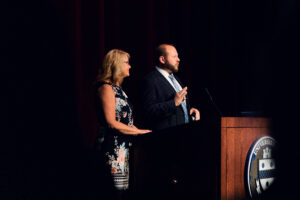 He set out to find a software package that could codify and streamline government processes. He felt that by creating a repository of knowledge and standard operating procedures, they could transform local bureaucracy. Unfortunately, nothing currently on the market fit the bill.
So along with his partner Lisa Hagberg, CiviLink set out to build a "GMS" (government management system) to streamline procedures, support legal compliance, and increase efficiency for the public sector. The winnings will help the company move their lead engineer to the PA Wilds and grow their marketing efforts. 
Second place went to White Cane Coffee, also in Warren. Founded by Erin Willman with support from her parents, this growing enterprise has a multi-pronged mission. 
As Bob Willman recalled during their presentation, Erin, who is blind, struggled in the past to gain employment.
"All employers ever saw was her white cane, not her," he said. "So if you can't find a job, make a job."
Their company is dedicated to creating jobs for people like Erin — capable adults who want to work, but have certain hurdles in front of them.  
All employers ever saw was her white cane, not her. So if you can't find a job, make a job.Bob Willman, White Cane Coffee
The family chose coffee as their product because, as Bob explained, it "is the great unifier. We have dates over coffee. We meet friends over coffee. We solve the world's problems over coffee."
White Cane has developed a compostable, single-use coffee pod to compete with K-cups. They are cheaper to produce and require only hot water to brew an excellent cup of joe. The pods are perfect for camping, vacation rentals, and the hospitality industry.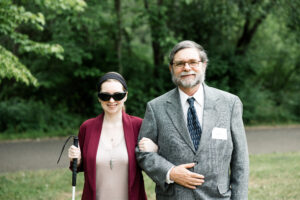 As they've grown, the company's values have remained paramount. All their coffee is Fair Trade Certified and organic, and they are the only company in America that has braille on all its packaging. They focus on hiring people with disabilities and manufacture the pods right in Warren. The winnings will help them purchase equipment and ramp up production. 
Artist and educator Julie Mader of Smethport won third prize with her company the Caregiver's Artbox, a subscription service. In her presentation, she spoke with passion about the power of art to boost the lives of seniors. 
Her product is designed specifically for this group, with the added goal of supporting caregivers who often struggle to come up with engaging projects. The market for senior-centric activities is growing as the "silver tsunami" — a large increase in the country's older population — enters nursing homes and other care facilities. 
Mader recalled her experiences teaching art to seniors. The pride they feel is transformative. One woman told her, "When I wear my bracelet, I feel like a million bucks. This is real art." 
Every quarterly box has enough materials for 90 projects, which means 90 keepsakes that can bring life to the hallways of nursing homes and become treasured gifts. The good doesn't stop there. Mader is partnering with Futures Rehabilitation Center in Bradford, employing disabled adults to store and pack the boxes.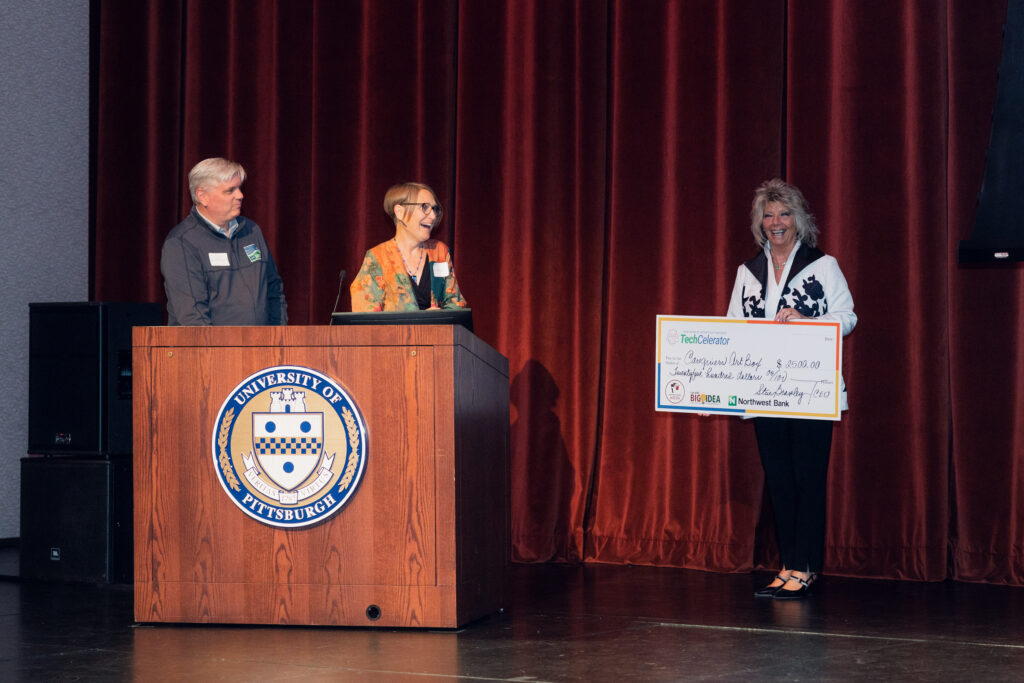 Mader also took home the People's Choice prize of $2,500, sponsored by Northwest Bank and voted on by the audience.
In addition to the prize money, all three winners also earn a chance to vie for a $10,000 seed grant from Ben Franklin and a guaranteed seat in an upcoming business accelerator program.
The contest was part of a three-year initiative funded by the Appalachian Regional Commission. This is the second of three annual BIG IDEA Contests made possible by a collaboration between Ben Franklin Technology Partners of Central & Northern PA and PA Wilds Center for Entrepreneurship. All the partners came away impressed with the level of competition. 
"The Appalachian Regional Commission provided the partners funding to surface entrepreneurs with competitive innovations in the region and then surround them with the resources to take them to market," said John Sider, Vice President of Business Development for Ben Franklin Technology Partners of Central & Northern PA. "We are energized by how the Big Idea Contest spotlighted the Allegheny National Forest region of the PA Wilds and eager to get to work supporting these entrepreneurs to make a positive impact far beyond the five-county focus of the contest."
"This region was built on creativity and ingenuity, and we know that innovation is not just in the history books," added Ta Enos, Founder and CEO of the PA Wilds Center for Entrepreneurship. "Innovation is still happening in the Pennsylvania Wilds today."
As these three companies show, innovation and compassion are not mutually exclusive.
 Each year, the contest is offered in a different portion of the PA Wilds. While the 2023 BIG IDEA Contest focused on Cameron, Elk, Forest, McKean and Warren counties, the 2024 contest will accept applications from Cameron, Clinton, Lycoming, Potter and Tioga counties. Centre, Clarion, Clearfield and Jefferson counties were highlighted in the 2022 contest.
This story was created in partnership with The PA Wilds Center for Entrepreneurship.
LEE STABERT is editor in chief of Keystone Edge.