Welcome back to We Are Here, a Keystone Edge podcast starring Pennsylvanians making their mark. This series has been created in partnership with PA Humanities, an organization dedicated to building community and sparking change. We hope these conversations will do the same.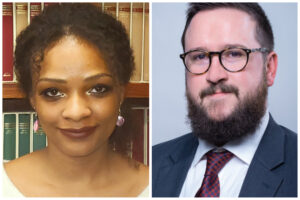 The Jefferson Educational Society calls itself a "main street think tank." What exactly does that mean? This Erie-based organization fosters "civil civic dialogue," hosting programming both at their headquarters downtown and at satellite sites throughout the county. One of those sites is in East Erie — a diverse, close-knit community that has struggled with divestment.
The Jefferson Educational Society brought the conversation to East Erie — but not before asking the local community what exactly they needed to be talking about.
To talk about the history of Erie as an economic and political bellwether, the power of conversation, and why every municipality should have its own local think tank, we welcomed Raven Clark and Ben Speggen of Jefferson Educational Society.
LISTEN NOW:
Subscribe to We Are Here on Apple, Spotify, Google, Amazon, Stitcher, and Podcast Addict.
Funding for "We Are Here" comes from PA Humanities and its federal partner, the National Endowment for the Humanities, as part of the American Rescue Plan Act of 2021.
We Are Here is hosted by Lee Stabert.
Lead Image: Dr. Ian Roberts, the former Superintendent of the Millcreek Township School District, presents "Dangerous Indifference: Leading in the Times of Challenge, Crisis, and Controversy" in March 2023 during the JES's Community Conversations programming series.